Yeco offers wear and spare parts for Terex Pegson Automax. If you need a part for your crusher, chances are, Yeco either has it in stock or can manufacture it for your needs.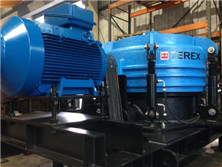 Premium manganese steel and alloy crusher liners
Yeco supplies concaves and mantles in 18%Mn(E) and 22%Mn(TT) which have been tested and proven to extend wear life on the market.
Replacement crusher parts are available to suit
Pegson Automax | Autosand Range – 1000 | 1300 | 1500
Maxtrak Series Range – 1000 Maxtrak | 1000SR | 1300 Maxtrak | 1500 Maxtrak
TC Series Range – TC1000 | TC1300 | TC1500
Finlay – C-1540 | C-1550
Yeco has no affiliation with the brands referred in this website. All compatible crusher parts are manufactured and warranted by Yeco.
VIEW MORE TEREX PEGSON AUTOMAX PARTS
To suit Terex Pegson 1000 Maxtrak | 1000 Automax | TC1000
Condition: New
Delivery: 15 Days
To suit Terex Pegson 1000 Maxtrak | 1000 Automax | TC1000
Condition: New
Delivery: In Stock
To suit Terex Pegson 1300 Maxtrak | 1300 Automax | TC1300
Condition: New
Delivery: In Stock
To suit Terex Pegson 1000 Maxtrak | 1000 Automax | TC1000
Condition: New
Delivery: In Stock
To suit Terex Pegson 1000 Maxtrak | 1000 Automax | TC1000
Condition: New
Delivery: In Stock
To suit Terex Pegson 1000 Maxtrak | 1000 Automax | TC1000
Condition: New
Delivery: In Stock
To suit Terex Pegson 1300 Maxtrak | 1300 Automax | TC1300
Condition: New
Delivery: In Stock
To suit Terex Pegson 1000 Maxtrak | 1000 Automax | TC1000
Condition: New
Delivery: In Stock
To suit Terex Pegson 1300 Maxtrak | 1300 Automax | TC1300
Condition: New
Delivery: In Stock
To suit Terex Pegson 1000 Maxtrak | 1000 Automax | TC1000
Condition: New
Delivery: In Stock
To suit Terex Pegson 1000 Maxtrak | 1000 Automax | TC1000
Condition: New
Delivery: In Stock
To suit Terex Pegson 1000 Maxtrak | 1000 Automax | TC1000
Condition: New
Delivery: In Stock
To suit Terex Pegson 1300 Maxtrak | 1300 Automax | TC1300
Condition: New
Delivery: In Stock