Yeco offers wear and spare parts for Metso C Series. If you need a part for your crusher, chances are, Yeco either has it in stock or can manufacture it for your needs.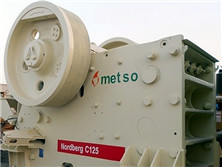 High manganese and chrome wear parts
Yeco supplies manganese steel jaw plates in 13%Mn and 18%Mn with Cr content between 2% – 3% which have been tested and proven to extend wear life on the market.
Large stocks of replacement components
Yeco holds large stocks of rear edges, tightening bolts, toggle seats, flywheels, eccentric shafts, bearing housings, bearings, tightening bushings and other compatible parts to suit Metso C Series.
Replacement crusher parts are available to suit
Nordberg C Series Range – C80 C95 C96 C100 C105 C106 C110 C116 C120 C125 C140 C145 C160 C200
Metso Lokotrack Range – LT80 LT95 LT96 LT100 LT105 LT106 LT110 LT116 LT125 LT140 LT145 LT160
Yeco has no affiliation with the brands referred in this website. All compatible crusher parts are manufactured and warranted by Yeco.
VIEW MORE METSO C SERIES PARTS